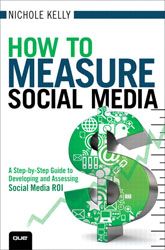 Do you think that social marketing is worth it? What did you say? No? Well, I will prove it. Whether you are prepared for it or not, your boss is certainly going to demand for it. And when he does so, tell him all that crap explaining it's not worth having it and hope it to work. However, I guess you will feel something and will be gone before you could realize what hit you. You must understand that your boss cares about sales turnover, costs and revenue. This book helps you understand that in most lucid, accurate and credible manner providing every detail.
Most of you might not be able to face your boss and even buy in for having a seat before him, but this book will help you to face the most brutal assault of your boss by giving the numbers that make careers proving to be indispensable to face the most clueless executive of your company.
And the best part of it is that it's quite simple. You are not required to be a math nerd to understand the success metrics. Most probably, you have all the data that you need and this tool is also cheap or even free. This book engages you to step by step interaction to master the data that actually delivers. It also provides plenty of exercises and worksheets that you can use to note down your answers and notes. The book is the work of 14-year refinements of Nichole Kelly. Hundreds of marketing professionals have used her strategies to successfully deliver their presentations to bosses and boards. Now, it's your turn to use her approach.
You can play the following game to win it if you are a marketing professional. The answers to most reliable questions are as follows:
How much revenue was generated this month from our activity on social media platforms?
Do customers respond to social media activity?
What is the highest conversion rate and what status updates delivered it?
Do we retain new social media customers and if so how long?
Do customers from other channels spend more or less?
What is the status of repeat purchases, do they purchase more than other customers?
And much more…